---
Courtyard Benches and Tables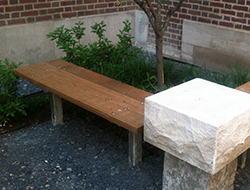 The courtyard surrounding Lincoln Hall Theater has been transformed into an oasis for students and staff, with cozy seating areas and natural landscaping. Your memorial will be a vibrant addition to this active community space.
Order Your Courtyard Benches and Tables
Order by mail for payments by check, payroll deduction, matching gifts. Download the printable PDF form.
Order by phone, to discuss other options or if you have questions. Call the LAS Office of Advancement at (217) 333-7108 or 877-265-4910 (toll-free)
Order online by using the form below.
Online Order Form
NOTE: The text of your engraving will be lost if you leave this page and then return to it without having completed your donation. You will have to re-enter the information.
To make changes to your order before continuing, click "Go Back".