---
Welcome
Raising $10 Million for Scholarships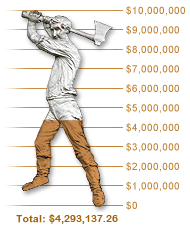 In celebration of Lincoln Hall's long-awaited renovation, have your name—or the names of those you wish to honor— memorialized in Lincoln Hall by making a gift to the college's scholarship fund.
Give to the Lincoln Hall Scholarship Fund.

Champaign County's Preservation and Conservation Association presented this prestigious award to Lincoln Hall at a ceremony on Sunday, April 21, 2013.

Watch a video of the Lincoln Hall Rededication ceremony that took place on Tuesday, February 12, 2013. This ceremony, on Abraham Lincoln's birthday, was exactly 100 years to the day of the building's original dedication.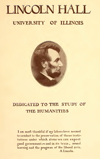 In 1913, the original dedication drew presidents of the major American universities of that time, plus local and state politicians. Even classes were canceled so every student could attend the tribute to "the finest monument thus far erected to Abraham Lincoln in the country," according to U of I President Edmund James. See the programs distributed at Lincoln Hall's dedication ceremony a century ago.
Featured Memory
"We could go out for an hour and gather derelicts like old tires, trophies belonging to clubs from the 1970s, theater props or costumes, misshapen hunks of wood, ancient cassette tapes, and any other strange relics of the past we could find in the basement, attic, or wherever else in the building. We'd then wrap the gift, invent a story, and give them to each other in the room as jokes."
—Jeff Ginger (BA '06, sociology)
Activity
Remembering Lincoln Hall
View the Storyography video that debuted at the Lincoln Hall Open House in the Lincoln Hall Theater. University of Illinois alumni reflect and describe the significance of Lincoln Hall.
February 2013
The Lincoln Hall Rededication ceremony.

October 2012
The big reveal: the Lincoln Hall Open House and time capsule ceremony.
July 2012
The Lincoln bust returns.

March 2012
The theater receives its floor and the courtyard its plants.
February 2012
Attention is focused on the first floor.

January 2012
The renovation is proceeding at a fast pace as it enters its final few months.