Subscribe
Subscribe to Lincoln Hall News

---
Events
Lincoln Hall Rededication

This ceremony—on Abraham Lincoln's birthday—was held exactly 100 years to the day of the building's original dedication. The College of Liberal Arts and Sciences invites you to watch this historic event that took place in Lincoln Hall Theater on Tuesday, February 12, 2013.
Program
Welcome
Ruth V. Watkins, Dean, College of Liberal Arts and Sciences
Remarks
Christopher G. Kennedy, Chair, University of Illinois Board of Trustees
The Honorable Pat Quinn, Governor, State of Illinois
Jim Underwood, Executive Director, Illinois Capital Development Board
Peter O'Brien, Chair, Illinois Capital Development Board
Robert A. Easter, President, University of Illinois
Phyllis M. Wise, Chancellor, University of Illinois at Urbana-Champaign
Ceremonial Ribbon Cutting
The platform party will cut a ribbon onstage, with the assistance of the Lincoln Scholars.
University of Illinois Black Chorus
Ollie Watts Davis, Conductor
Closing Remarks
Ruth V. Watkins
1913 Dedication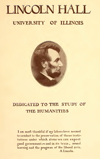 In 1913, the original dedication drew presidents of the major American universities of that time, plus local and state politicians. Even classes were canceled so every student could attend the tribute to "the finest monument thus far erected to Abraham Lincoln in the country," according to U of I President Edmund James. See the programs distributed at Lincoln Hall's dedication ceremony a century ago.