---
The Renovation
Preserving Our Architectural Heritage
Lincoln Hall's prairie-influenced Italianate design and architectural nods to one of the nation's greatest presidents have made the building a campus landmark. Architecturally, it is considered innovative and qualifies for the National Register of Historic Places. The renovation will balance necessary structural upgrades with a commitment to retain many original features that so eloquently convey wisdom and learning.
For more details about the renovation, view a PDF of "Lincoln Hall: A Gift for the Ages," an article that appeared in the Spring 2011 issue of Illinois Alumni magazine.
The Exterior Is Restored
Lincoln Hall's intricate exterior facade will retain its appearance. The entire exterior will be restored, including the slate roof tiles, window profiles, brick mortar, detailing, and the 30 terra cotta panels depicting quotes, portraits, and scenes from Lincoln's life and times. On the Wright Street side of the building, the old carriage porch, which in recent years had been reduced to a loading dock, will be restored as a formal entrance to the building.
The renovated Lincoln Hall will include central air conditioning. To get the massive new air handlers into the basement without altering the building's historic facade, the engineers had to determine how to break down the units into parts and feed them through the bay windows.
The Theater
The Lincoln Hall Theater will be returned to its original grandeur, including the historic colors. Old seats will be replaced, but the original, decorative cast iron ends will be preserved, as will the tablets and frescoes.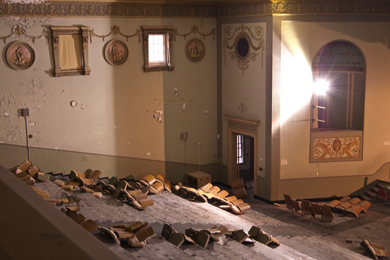 The walls and ceiling, with their neoclassical medallions and panels, will be restored to their original appearance, and a new stage curtain will be added. Stage equipment will be upgraded, and a new control room will provide modern sound and projector systems.
Did You Know?

In the early 1950s, Lincoln Hall became the first building on campus with wheelchair-accessible ramps. The U of I has long been a leader in accessibility for the disabled, and thus Lincoln Hall is likely to have been among the first accessible public university buildings in the country.
The Historic First Floor
The historic first floor will be preserved even as classrooms are enlarged and outfitted with new technology.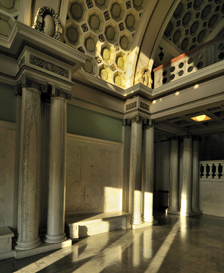 Some 5,000 feet of original white oak paneling, baseboard, door casings, and trim will be refinished. Inside the main entrance off the Quad, the characteristic barrel-vault ceiling, Gettysburg Address tablet, and marble floors and pillars will be restored. The bust of Lincoln will again overlook the foyer.