---

Doug Peterson (BS '77, journalism), tells his son, Jason Peterson (BS '11, English), the story behind a quirky family tradition and how he met Jason's mother in Biology 100.
Another thing that was really significant for me, of course, was meeting my wife—your mom (laughs)—which happened freshman year. It was interesting because throughout high school I had a lot of experience with disastrous dates, which is why I ended up writing a book in the 90s for high schoolers based on my disastrous dating experiences called The Wrong Stuff: How to Have Disastrous Dates and Ridiculous Romances. So that was my background coming to the U of I, so it is interesting that my first successful dating relationship ended up becoming my wife of—'76—I guess that would be 34 years now.
We met in Biology 100, which was a biology class for non-science people, such as ourselves, where you did independent study where you went in and looked at bulletin boards and took notes and listened to tapes. You had a lecture at the end of the week, but you pretty much had to do everything independent study. So, that was real significant because it was the last day of Biology 100, I had met Nancy, I knew she just wanted to be friends with me, but I wanted to keep contact. And literally it was down to the last minute where she would have walked out of the door and vanished maybe forever. And then I did ask her for her address so we could write over Christmas break. Just at the last minute.
So, I did get her address. We did exchange letters over Christmas break. And then over Christmas break I bought a recorder, you know those little flute type things. Because I'm not musical, I figured maybe I could learn how to play that. So when I came back to campus second semester, I had told Nancy about this, who is very musical and played the flute. She said, "Oh, we'll have to play on the Quad sometime and play together." And I suggested the next Friday night that we practice, and that was our first non-date. And so I have not touched that recorder since that one day, but it served a very important function that I bought over that Christmas break.
Again Biology 100 was very significant. In fact, as you know, George Keiffer was the professor of that class. In his honor, since that was the class we met at, we do a family tradition every New Year's: we have the George Keiffer Awards. And if he hears this, I don't know, maybe we'll get sued (laughs). No. We have the George Keiffer Awards, and what those are is that we're ranking our favorite movies and television shows and books for the year. It's like our little Oscars ceremony, and it's become a family tradition in honor of George Keiffer and Biology 100, which is where we met. He's been an important part of our life in that sense. He doesn't know it, but he's played an important part.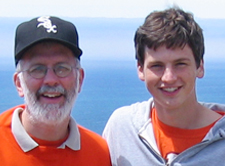 (Length: 2:56)