---

U of I Scrapbook
Featured in the pages of this scrapbook are submitted memories about the University of Illinois.
"In the late '60s and as a future combat pilot, I watched the Vietnam War rage. Both in Armory ROTC classes and wandering Altgeld Hall, I puzzled over how to beat an enemy willing to die for his cause. As it turned out, we couldn't. Now I'm wondering the same thing about al-Qaeda."
—Dan Petkunas, USAF, Colonel (ret), BS '70, math
"On December 7, 1941, I was a member of Triangle Fraternity, a fraternity of engineers. We were all stunned when we heard the radio announcement that Pearl Harbor was bombed. It was a time of disbelief. Someone in our group said, 'Let's have a parade.' It started at Second and Daniel. Someone had a bugle and someone a drum, and as we started down the street it gathered momentum and ended with several thousand at the home of Arthur Cutts Willard, the president of the University. We were bewildered and ready to answer the call. There was an outpouring of patriotism that, I say, was started there and has never been seen again. The camaraderie of the fraternity and uncertainty of the times seemed to bond us more. As a result, for over 30 years we held annual reunions of the 'Triangles of the Early Forties,' along with their wives, which were held at different locations throughout the United States.
"In the 23rd consecutive year it was held in Seattle. September 11, 2001, was to be our last day in Seattle. We learned of the terrorist attacks. A number of us were together on both December 7, 1941, and September 11, 2001. We experienced some of the same bewilderment and uncertainties that we had over 60 years earlier. What was to be our last day in Seattle had us scrambling to try to get plane reservations to fly home, as all flights were canceled. It took several days before that was accomplished. That gave us time to reminisce about the peculiarity of being together at two infamous dates in our history."
—Ray Ackerman, BS '43, civil engineering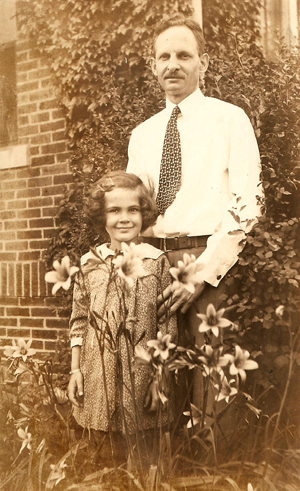 "I am pleased to contribute a small plaque for the courtyard of the rebuilt and furbished Lincoln Hall in honor of my beloved father, Dr. W. Russell Tylor, whose office was on the third floor from 1927 to his untimely death in 1945. As an associate professor in the Department of Sociology, he always very much enjoyed the vocation of teaching, not only of the students in his graduate courses in regional and urban sociology, but, as well, those in dear 'Soc 1.'
"Born in 1889 and originally from Maryland, he had received his doctorate in sociology at the University of Wisconsin in 1923. He was a true intellectual, quiet in demeanor, who wrote many profound treatises on sociological themes. He enjoyed reading, studying, playing cards, and playing tennis. He was also an excellent pianist, and instilled the love of music and language in me, his only child. I enclose a photo, from his days on campus. "
—Elizabeth M. Tylor (AB '46, general curriculum) commemorates her father, a U of I sociology professor
"I was chairman of this great event! It was the first dance after WWII with 1,200 couples attending in Huff Gym. There were 2,000 in the balcony listening to Tommy Dorsey!"
—"Bunny" Easter Mathisen, AB '48, science and letters (pictured with Tommy Dorsey, at right, and her date at the Sophomore Cotillion, April 1946)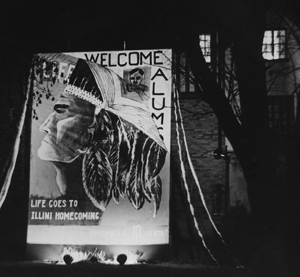 "1939 Tri Delta Homecoming decoration—very large!"
—Shirley (Hopp) Dean, AB '41, general curriculum
"We met studying mechanical engineering, graduated from Illinois with our bachelor's degrees together, and stayed on to earn master's degrees. We were both advised by Professor James Peters, who was tragically killed in a car accident in 2000. We remember him with gratitude, respect, and affection. We got engaged on the steps of the Auditorium in 1987 and married in 1988. Our first child, James, is now a Chancellor's Scholar at Illinois, majoring in chemistry. The University of Illinois has had a profound effect on our lives—we are proud of our educations and excited for our son's opportunity to study at one of the best universities in the world!"
—Andrew Tucker, BS '86 BS and MS '88, mechanical engineering; and Julie Tucker, BS '86 BS and MS '87, mechanical engineering
"I was a sophomore in April 2005 when the Fighting Illini Men's Basketball Team made it to the NCAA Championship game versus North Carolina. I watched the game with my roommates in a friend's fraternity. The room was packed and there was such a sense of school pride and camaraderie. Even though the team went on to lose the game, I will never forget the entire campus rushing Green Street and the Quad. It was a sea of orange and our sense of unity and pride for our team was undeniable!"
—Janice Wenzel, BS '07, civil engineering
"Before Illinois, this very young fellow worked extra time and studied hard, having as residue both nights of short sleep and less time for his beloved family. By merits only, he won a scholarship from the U.S. State Department and received wages from the Central Bank of Costa Rica, his employer. These brought him and his little family to Orchard Downs and the Masters of Science in Policy Economics program. Happy times before and after, and there were no clouds on the horizon. At U of I, this young fellow had great teachers, and did not waste any time, gaining courses at the PhD level and making his thesis on sustainability, a new concept at that time. Illinois left not only good memories, but a daughter. The children, now grownups, are getting their careers, the Illinoisan one right there at the U of I, while the older just finished a global MBA."
—César Jaramillo, MS '89, economics
"Who can forget the boisterous, but benign, springtime panty raids of the early 1950s? The sorority gals, flaunting various undergarments out their windows, seemed to enjoy the commotion as much as the guys did. Meanwhile, Joe Ewers, the Kampus Kop, mounted a futile attempt to quell the chaos. In the end, no harm came of the titillation."
—K. Stephen Anderson, BS '55, journalism
"One of my and my wife Silvia's biggest memories is also one of the biggest secrets of the 1988-1989 Flying Illini Basketball season's success. Throughout that memorable season, we volunteered our alternative healing skills known as Qi Healing on most of the star players and sped up their injury recovery times up to 70 percent faster compared to using standard therapies. We also did this for all the other major sports at the University. Some basketball players would call us up right before their games and we'd go down to the Assembly Hall and treat them in an inconspicuous area below the venue. They'd end up playing the whole game pain-free and without any recurring injury. The whole season, the local media constantly brought up how quickly injured Flying Illini players would be back on the court weeks and months before they were supposed to. Only the players knew the truth. At a 2011 Illinois Alumni Banquet, guest speaker Stephen Bardo acknowledged our contribution to the team and thanked us."
—Craig D. Reid, PhD '89, entomology; and Silvia N.M. Reid, PhD '91, biology
"In the fall of 1954, IUSA was having a weekend of training for student leaders engaged in the many activities that the Student Activities Union sponsored. The retreat was held off campus at a beautiful mansion in Allerton with extensive grounds and many elegant sculptures. The guest speaker at dinner on Saturday night was Chili Bowen, the Director of the Alumni Association. Chili was an old buddy of mine since I had been the freshman representative on the Alumni Board in 1951. He told a tale in keeping with the October season. According to the neighbors of the Allerton mansion, this was the night that one of the statues walked. The Sun Singer, a very large and beautiful Norse God who graced the front drive, left his pedestal and roamed the grounds looking for a wife. When he found her, he would cloak her in white to indicate that she was the chosen one.
"We all chuckled and went off to our evening meetings, reconvening at 10 for cocoa and donuts. The lights went out in the dining room. Blue lightning slashed through the wide doorway. An apparition appeared. Girls screamed. People were climbing on chairs. Something was pouring all over me. I had on a long-sleeved sweater and couldn't feel what it was. The lights went on. I was covered head to foot in white flour. A voice said, 'The Sun Singer has chosen his bride!' We all laughed as I shared all the flour I could shake off with anyone who was nearby. That Chili! What a night!"
—Diane Lee Johnson, AB '55, teaching of social studies
"In 1952 I had been in the University Theatre production of Knight of the Burning Pestle, which used the Elizabethan stage. During the next years my friend and now my husband of over 50 years and I ushered for many University Theatre productions."
—Nancy Popel Elson, AB '54, AM '56, music
"When I was an Illinois student in the 1970s, I would always invite my grandfather to come over for Dad's day. My father (an Illinois alumnus) had died when I was in high school, so my grandfather (also an Illinois alumnus) would come to spend the day with me. My great-grandparents had run a boarding house in Urbana from 1909-1915. They farmed near Clinton in the summertime and ran the boarding house (called the Clinton House) where they boarded other students from Clinton during the school year. They put three of their own children through the University of Illinois (two bachelors, two masters, and one PhD). My grandfather was their youngest child, and the worst student. For Dad's day, we would typically go to the football game and then go out to dinner. After we both had a couple of beers, then the stories would start. He had been in the stands the day that Red Grange had run for all of those touchdowns against Michigan ('He ran for so many yards that they finally had to take him out just so he could catch his breath.') Then there was the time he told the waitress at the Round Barn restaurant that he used to slop the hogs where we were having dinner. (My grandfather was an ag student.)
"But my favorite story was when he told me that he preferred that I not do business with the Busey Bank. Apparently my grandfather delivered papers for the Daily Illini during his senior year and one of his customers was 'Old Man Busey.' One day Mr. Busey came out to meet him and told him that he expected his paper to be directly in front of his door, not just on his porch. At this point my grandfather asked him, 'Would you like me to read it to you too?' That was the last paper my grandfather delivered. Mr. Busey went down to the Daily Illini and had him fired. Consequently, four generations of Illinois students in my family have not done business with the Busey Bank for the past 100 years."
—Rick Nebel, BS '75, general engineering; MS '76, nuclear engineering; PhD '80, nuclear engineering
"I am a third generation Illini. (I was born in Champaign's Burnham hospital, since razed.) My paternal grandfather and namesake, William Nichols Butler, graduated in 1879. He may have been president of the alumni association at some time. A family story was that he helped plant the rows of trees that for many years lined the broadwalk on the west side of the Quad. My mother, Mary Rachel Hein (BS '17, home economics) and father, William Glenn Butler (BS '17, agriculture) met in a U of I chemistry class; and I met my wife, Eileene Louise Daehler Butler (AB '47, general curriculum; AM '50, teaching of English) when I was in graduate school (and living in the old Parade Grounds Units) on the Urbana-Champaign campus. My maternal grandmother, Liva Hein, moved to Champaign (from Tampico, birthplace of Ronald Reagan) after she was widowed, so that her children, my mother and my uncle, Mason A. Hein (BS '17, agriculture) might receive a good education. She opened a rooming/boarding house for male students (she called them her 'boys'), many of whom remained in touch with 'Ma Hein,' even during and after WWI. My parents remembered their days at U of I and their lives in Urbana-Champaign fondly, and remained loyal supporters after they left there in 1932. A few years ago I gave a number of Homecoming pins and U of I postcards to the alumni association for their collection, and until recently I still had several mementos from my parents' years at the University."
—William N. Butler
"I was an LAS/premed undergrad at U of I in 1966 and quite involved in student activities through the Illini Union. My mother was a student for a semester at U of I in Urbana in 1941. I mentioned to her that I would be attending the 25th anniversary celebration of the Illini Union. She remembered attending the opening celebration while she was here. I've kept the souvenir key chain given to the attendees that night some 45 years later. I still enjoy thinking about the bond between us through a shared experience at the U of I albeit 25 years apart."
—Lee A. Fischer, BS '68, psychology
"In 1956, I was a young student. One morning, I was suffering from a pebble in the eye. I was very upset because I had a big exam that afternoon. I walked in downtown Champaign and found an eye doctor on the main street. I told the receptionist that I had virtually no money and asked if the doctor would remove the pebble. He immediately took out the irritant and said, 'NO CHARGE,' providing you help another young person someday. I have never forgotten that experience. Because of that pebble, I have helped an untold number of young persons during my 50 years of executive life. I always say, 'NO CHARGE,' providing you help another young person...someday."
—James E. Neal, AM '57, labor and industrial relations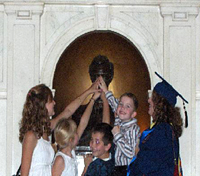 "They all had to do the tradition, just in case, to give me extra luck."
—Tiffany Vogt, MS '07, library and information sciences
"Storyography, thank you, thank you, for bringing me the voice of Paul Landis again after 50 years! I ... always attended the Christmas Carol readings. Because they were a wonderful experience, I signed up for Dr. Landis's class on Robert Browning, not because I loved the poems at that time but because I wanted to experience Dr. Landis in a classroom. Much of the course consisted of his reading Browning's verse aloud in his rich, deep, expressive voice, and I came to love and understand the poetry because of Dr. Landis's interpretations. Again, I offer my appreciation to your project and to Martha Landis. I never thought I would hear that great voice again; I am so grateful his dramatic gift is preserved and can still be enjoyed."
—Virginia Riser Scott, AB '60, English
"The University of Illinois, for better or worse, provided an environment that enabled willing people, i.e. students and faculty, to develop all of their ideas and abilities to the fullest extent possible. There was no lacking of support to enable this to be a reality of intellectual attainment as well as physical. I often fascinate if those in administration knew what they were doing or if this atmosphere developed in the natural order. Whichever the case—well done. ...
"I was involved with the professors deeply and grew from this exposure. I was involved in student government and that was a positive experience. Of significance was the relationship that I had with Vernon Zimmerman, PhD and dean of the College of Commerce in 1972-3. He was a gentleman, a scholar, an intellect, considerate, gentle, understanding of most matters and if not he tried to be so. I do miss him. The U of I was extremely fortunate to have had him at a time when the critical growth was an imperative. Dr Zimmerman was a massive contributor to what the U of I is currently. I could go with a treatise of 10,000 words, perhaps I will one day."
—Jim Crill, AB '76, political science

"Growing up in Chicago, there are many opportunities to experiece diversity. However, because the city is very segregated, many of us never left our 'side' of the city. Going to U of I allowed me to broaden my horizons and outlook on life in general. From walking the Quad en route to classes...to playing sports in IMPE and living & eating in the six-pack...I was shaped and molded into the International Man that I am today! Thanks U of I!!"
—Michael A. Jones II, AB '01, speech communication
"My brother and I had the honor of unveiling [my great uncle and U of I Dean, Thomas Arkle Clark] at the Homecoming ceremonies of November 1927. The previous evening we enjoyed the exhilarating privilege of being introduced to Coach Robert Zuppke and Athletic Director George Huff at the pep rally, a custom at the time with its large bonfire, crowds of students, and cheerleaders, held the night before big games. On the following day we made the long trek from Illinois Street across campus to the stadium to attend the game and experienced the unending numbers of returning alumni affectionately calling out greetings to Uncle TA. Almost invariably he would reply to them by name. Such a feat of memory was even impressive to a 10-year-old boy."
—Robert C. Jones, AB '39, general curriculum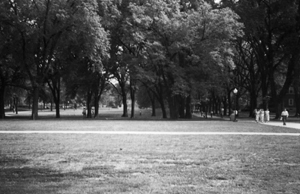 "Enclosed are some photographs and negatives of film I shot in the fall of 1950 on and around the Quadrangle."
—James E. Winkelman, BS '53, geology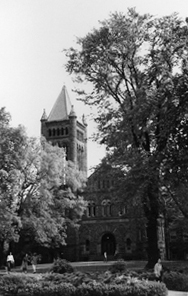 At left, this photo by James Winkelman shows Altgeld Hall in 1950, 12 years before the Alma Mater was moved to its current location. Designed by Lorado Taft—an alumnus (1879 and 1880) and professor of art—the statue originally stood behind Foellinger Auditorium from 1929 to 1962.