---
Hitting the Gas to Class
Restricted Wheels
They've been banned by suspicious administrators. They've been glorified by students. They've been disguised as X-wing space fighters. Cars, motorcycles, and other motorized transportation have a long, colorful, and sometimes contentious history on campus, with the university president fuming in 1933, "With our large registration of women I am not in favor of allowing students to drive freely about the country."
It was a battle the students eventually won. We have the photos to prove it.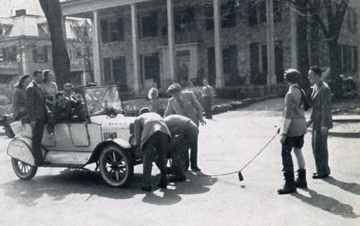 A car featured in a Red Cross Pow Wow Parade shortly after World War II. (Copyright Illini Media / 1947 Illio)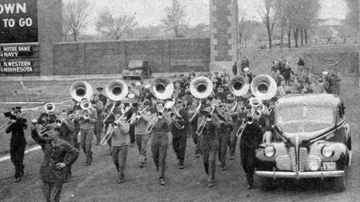 Even with its numbers depleted during World War II, the University band kept on playing. (Copyright Illini Media / 1944 Illio)
The U of I placed restrictions on automobile usage by students through the 1950s. Students could receive special permission to drive on campus but cars were often linked with wild and "immoral" behavior.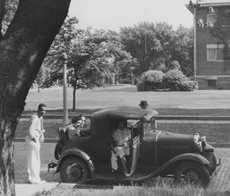 Cars could be used by students in certain cases approved by administrators, even during the Great Depression. (Courtesy of University of Illinois Archives)