---
The Many Faces of Lincoln Hall
The Names Behind the Name
In 1909 the Illinois state legislature approved $250,000 to construct a new building on a stand of trees northwest of Foellinger Auditorium (then just "Auditorium"), thus creating desperately needed study space.
Though initially referred to as New University Hall, it was quickly changed to Lincoln, to honor the late president in the centennial year of his birth.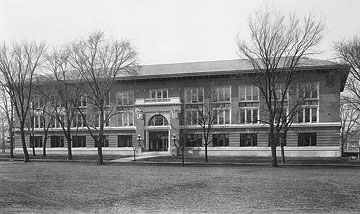 Leaving Cramped Quarters Behind
Lincoln Hall's predecessor, University Hall, was a four-story building which stood roughly in the same spot as the Illini Union does today before the dilapidated building was torn down in 1938. Even by the early 1900s, University Hall was the object of complaints.
In 1908, George Meyer, a concerned custodian, wrote a seven-page letter to Dean Greene deploring "crowded, dirty, ill-ventilated" conditions in University Hall. Students had little opportunity for private meetings with faculty, Meyer wrote, and he worried about the spread of disease and fire.
One has only to observe the mass of humanity surging back and forth in the corridors and up and down the stairway during the brief intermission between class hours in order to realize what an awful catastrophe would inevitably have resulted from the recent fire in University Hall, if it had occurred during a recitation period," Meyer wrote.
Meyer wasn't the first to note poor conditions in University Hall, but he was one of the most thorough. His letter included "tabulations of fact" that detailed how 1,200 students occupied the old building during class period. Administrators later referred to his letter when they were arranging room assignments for the new Lincoln Hall.
Sources: University Archives; John Hoffmann, curator, Illinois History and Lincoln Collections; Muriel Scheinman, adjunct assistant professor, art history. (Photos by Thompson-McClellan, Chris Brown, and David Wiegers, and courtesy of U of I Archives and Facilities and Services.)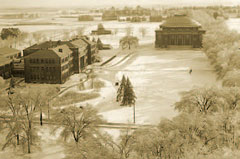 Dean Evarts B. Greene, of the College of Literature and Arts (later Liberal Arts and Sciences), suggested the name Lincoln Hall in honor of the late president.
"This name seems to me to be especially appropriate [since] the appropriation was made in the centennial year of Lincoln's birth," Greene wrote, in a letter to President Edmund James. "Among the departments to be cared for in this building are those of literature, history, and politics. For all these fields Lincoln has, of course, a very large significance."
President Edmund James and the Board of Trustees quickly agreed, with the board noting that Lincoln's signing of the Morrill Act in 1862, also called the Morrill Land-Grant Colleges Act, paved way to the creation of the University.
A Boost for the Humanities
From the beginning, administrators fought to make the building a cornerstone in the study of humanities. The building initially housed seminars and libraries for studies of language, social sciences and logic, and two historical museums.
Now is the time," President Edmund James wrote to Dean Evarts B. Greene, when the Board of Trustees was opening bids to construct and furnish Lincoln Hall, "to present the needs of the literary departments for equipment in the same sense as engineering or chemistry.... Some of our trustees here never believed that English or German or Economics needs anything for equipment. Now is your chance to drive it home...in connection with this building."