---
The Evolving Quad
Center of Change
The evolution of the Quad is part luck, part foresight, and all Illinois.
The Quad is regarded as a timeless link between generations of Illinois alumni, but had the late campus cop Peter "Adam" Adams, who officially retired in 1933, appeared today, a lot of sunbathers, Frisbee fans, and free-ranging bicyclists might have an unpleasant lesson in how much the space has changed.
There was a time when nobody was allowed to brandish a cigarette on the Quad, much less dwell upon the grass, without Adams chasing them off with a whistle and cane. For years, only newspaper carriers were allowed to bike on sidewalks, and then only before 8 a.m.
It's not hard to imagine how Adams and other old-timers might have reacted to Quad Day, or anti-war protests, or the nude parachutists that landed on the Quad in 1974.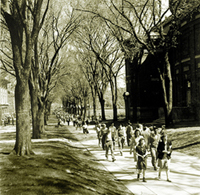 (Photo courtesy of Mary and Andrew Koctur)
Attitudes and decorum are not all that have changed. When Don Molnar came to the University of Illinois as a student in 1956, one of the first things he noticed were towering elm trees on the Quad. "I looked up and the trees were bigger than the buildings, which I had never seen in my life. I wouldn't have gone anyplace else at that point," says the landscape architect.
Those elms, planted in the 1890s and which long stood as a stately reminder of campus history, were totally wiped out in 1965 by Dutch elm disease. You wouldn't know it today, as the University hired a company in the wake of the elm disaster to recreate the Quad's leafy environment.
The Quad is indeed an anchor across the years, but, contrary to its unchanging image, its story reflects the evolution, tensions, and ideas of the University itself.