---
Surviving the Crash
The Great Depression Arrives
The 1929 expansion of Lincoln Hall was the exclamation point to an upbeat era at the University of Illinois. The 20th century had thus far been defined by ever-increasing enrollment, a building boom, and a fleet-footed halfback named Red Grange who once scored six touchdowns in one game. On Michigan.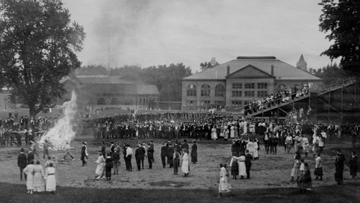 By the early 1930s, however, the University was in the teeth of the Great Depression. Conditions grew so severe that in March 1932 then-President Harry Chase, after calling for drastic budget cuts, wrote to an outraged dean, "There is not a department in the University which is going to be able to do what is necessary without interfering more or less seriously with important work. Yet there is no other way of doing it if we are to finish out the year."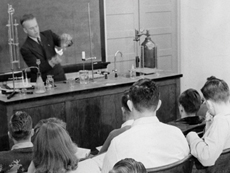 Salaries were slashed. Workers were laid off. State funding dropped off and enrollment fell by more than 25 percent. Students learned how to stretch their dollars and luxuries dwindled. Even the Altgeld Hall carillon fell silent.
Here's a glimpse at how the University coped in the era against which all hard times are measured.
(Photos courtesy of U of I Archives.)