---
War and the New Era
Books to Barracks
With the advent of World War II, the University of Illinois campus turned into a virtual military base.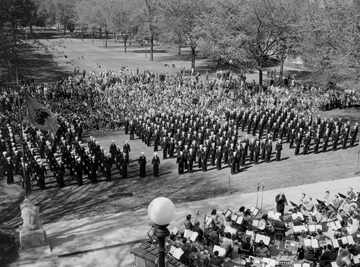 Thousands of military personnel were housed in requisitioned dorms and fraternity houses as the U.S. Army and Navy set up specialized training programs on campus. The ice rink and Illini Union were converted to mess halls, and new courses in civil defense filled with students.
Armed guards were posted around academic buildings where contributions to the war effort were underway. Chemists on campus were key players in one of the largest research initiatives of the war, the Synthetic Rubber Project, which literally kept Allied armies on the move.
There were a few voices of dissent about the war effort taking priority over civilian education, but support for the conversion was overwhelming, particularly when the war's outcome was in doubt.
"It is the first concern of the University of Illinois to help win the war," declared the Board of Trustees in March 1942, in offering University facilities and staff services in support of the war. "Everything else is secondary, even the much talked of long-time educational program so essential for making a durable peace to which every university is dedicated."
Even when the war ended, however, and the military left campus, the University discovered that there would be no return to normal. The public had come to regard universities in a new light. The same veterans who had flooded enemy beaches were, with help from the G.I. Bill, flooding campus in search of education. In many ways it became a more serious and career-oriented place.
The University of Illinois did all it could to honor the nation's commitment to provide higher education to veterans after the war. But it quickly became clear that campus would never be the same.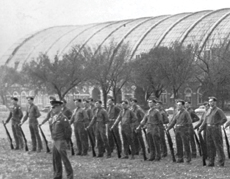 Campus on War Footing
The University of Illinois revamped virtually every aspect of itself to assist the war effort. Campus hosted military training programs and created two-year curriculums heavy in math, physics, chemistry, engineering, and English for service members. Navy personnel trained in the pool in the English Building. Other teaching and research programs were shortened to produce graduates as quickly as possible and with expertise applicable to national defense. Students filled extracurricular courses in first aid, radio, riot duty, firefighting, and other matters of civil defense. "With a change of emphasis here and a slight alteration there, the research and scholarship of the whole institution were promptly placed on a war footing," stated the Board of Trustees at the time.
(Photos courtesy of U of I Archives and Illini Media Company.)