---
The Many Faces of Lincoln Hall
Designing the Exterior: Commemorating Lincoln
Early designs called for a series of 3-foot by 9 ½-foot terra cotta panels adorning the front and sides of Lincoln Hall that depicted Abraham Lincoln's quotes and scenes from his lifetime. Calling it a "labor of love," the American Terra Cotta and Ceramics Company of Chicago produced 10 scenic panels and 10 quote panels for $1,000 (10 more quote panels were added in the 1929 addition).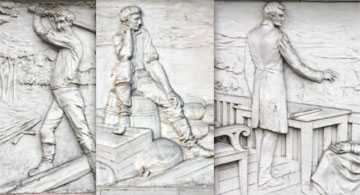 For the 10 scenic panels, mounted between the second and third floors facing the Quad, designing artist Kristian Schneider created scenes that shaped Lincoln's life, including the Lincoln-Douglas Debate, the first inaugural address, splitting rails, and others.
The scenic panels were meant to convey the spirit of Lincoln (in three panels Lincoln doesn't even appear) as the "patient, conserving force of the man who stood strongly against public clamor for measures he believed to be right," according to an April 1912 article in The Clay-Worker that detailed the effort.
The quotes on the building's north and south faces were chosen initially for how they reflected an important aspect or incident in Lincoln's life, and also for their length, so the panels were uniform.
Some quotes are: "Slavery is founded in the selfishness of man's nature – Opposition to it in his love of Justice" (1854); "'A House Divided Against Itself Cannot Stand'. I believe this government cannot endure permanently half slave and half free." (1858). A total of 10 more quotes were added to the north and south sides in the 1929 addition.
The 10 original quote panels are each flanked by two medallion portraits of men who were important in Lincoln's life. The north wall has portraits of Illinois leaders and the south wall has national leaders. The portrait shields bracketing 10 quotes added in 1929 were left blank.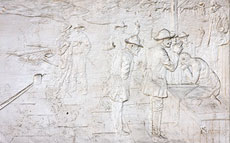 Exterior Debate
The scenic panels were not welcome at first, with faculty complaining that they "subtracted from the building's individuality and suppressed its height, and that the scenes were too shallow to see from the ground." These objections were famously dismissed by the angry company president, who said memorably: "your professors will have to live with it."
During construction a group of faculty viewed one of the first scenic panels and concluded it was "entirely out of place," according to a letter to President James. Faculty complained that it subtracted from the building's individuality and suppressed its height, and that the scenes were too shallow to see from the ground. Even James quipped that he needed an opera glass to see them.
When word reached the designers that the university was considering asking the State Art Commission to judge the panels' appropriateness, the company balked memorably.
You have a mighty fine faculty socially and educationally but they are too much for me as critics," wrote company president Williams Gates, to James. "Unfortunately Michael Angelo [sic], who might have been able to do this work, is not now accessible and indeed it occurs that it's possible that if he had been compelled to submit to the Art Commission before placing his work, Italy might not today have some of her art treasures.... This is the work...your professors will have to live with it."