---
Lincoln Hall Theater Review
Heyday of Theater
Center Stage on Campus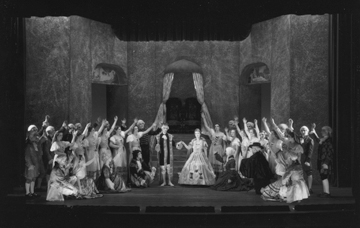 (Courtesy of University Archives)
This 1935 production of Gondoliers was one of many theatrical productions in Lincoln Hall Theater during its almost 40-year run as the primary theater space on campus. In 1968, the Krannert Center opened and most theater productions opted for the new venue over Lincoln Hall Theater (although prop storage remained in Lincoln Hall's basement all the way until the building was vacated in 2009 for renovation).
Nitty-Gritty of Creativity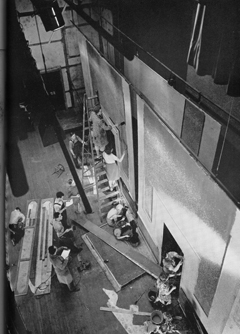 (Copyright Illini Media / 1939 Illio)
Students prepare background scenery for a theatrical production. Stage hands and crew helped set the scene for countless plays, musicals, and other events during the Lincoln Hall Theater's prime as it was used by various campus theater groups throughout the year.