---
Lincoln Hall Theater Review
Taste and Practicality
Fine Details
(Courtesy of University Archives)
In the 1920s, sound-absorbing tiles, which reduce echoes by absorbing the sound instead of reflecting it, became popular in ceiling construction. These sound-absorbing tiles were mounted in the Lincoln Hall Theater ceiling in 1929 by Johns-Manville Corporation at 67 cents per square foot for 2,900 square feet.
Artistic Function
(Photo by Holly Korab)
More than 600 chairs from Steel Furniture Co. of Grand Rapids, Mich., were installed in Lincoln Hall Theater in 1930. The original seat panels seen here, while selected to match other Robert Adam-esque decorative elements in Lincoln Hall Theater, were also meant to protect seats from dirt and debris in the aisle. Chair designs were also chosen so that they would allow students to squeeze through the rows while the tablet arms were up.
A Trans-Atlantic Artistic Theme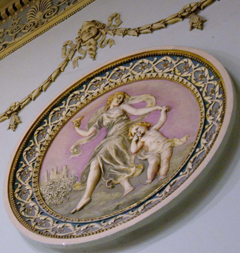 (Photo by Thompson-McClellan)
Wall discs and many other ornamental considerations in Lincoln Hall Theater were inspired by 18th-century Scottish neoclassical architect and designer Robert Adam and his brothers.