---
Lincoln Hall Theater Review
Scenery and a Myth Explained
Behind the Scenes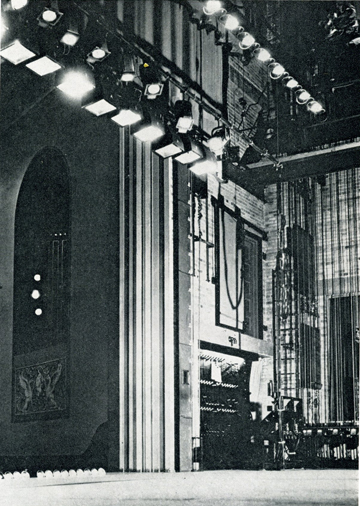 (Copyright Illini Media / 1943 Illio)
Equipping the stage of Lincoln Hall Theater was a complicated task involving several contractors. The original olive green curtain, lined with ivory sateen (and fire-proofed with asbestos), was provided by G.C. Willis in Champaign. Also backstage was the switchboard, which, with a price tag of $6,500, was one of the theater's most expensive items. A tall, slightly curved cyclorama served as the stage's neutral green backdrop. It was one of the first cycloramas in a small theater.
A Strange Addition and a Myth
(Photo by Thompson-McClellan)
Metal outlet boxes were installed in the ceiling of Lincoln Hall Theater when air conditioning was added in 1937. The plain boxes, seen here between the two rows of dome lights, were adorned with decorative plaster to make them more aesthetic, but their resemblance to coffins sparked campus myths about their real purpose.
By Dave Evensen